Home : Specialties :
Historic Buildings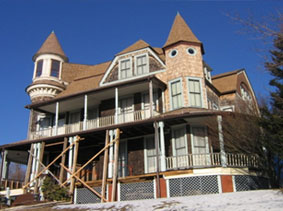 Polaris has extensive experience in providing MEP needs assessments, energy audits and renovation design services for historic buildings. We work closely with the architect and historic preservation consultants to recommend and design systems that will satisfy the building's functional requirements and that will be as consistent as possible with the historic nature of the building. Whenever possible, we recommend and incorporate design elements that minimize energy and water usage and utilize more environmentally-friendly refrigerants.
Our needs assessment studies include a summary of the existing systems and proposed improvements or system upgrades, and also have included construction cost estimates when requested. Our assessments have been included as documentation in grant applications for historic buildings. Typically, our energy audits will include proposed energy measures with simple payback analysis, and include information on any available utility rebates. We also recommend capital improvement projects with construction cost estimates, for the owner's use in budgeting and fundraising.